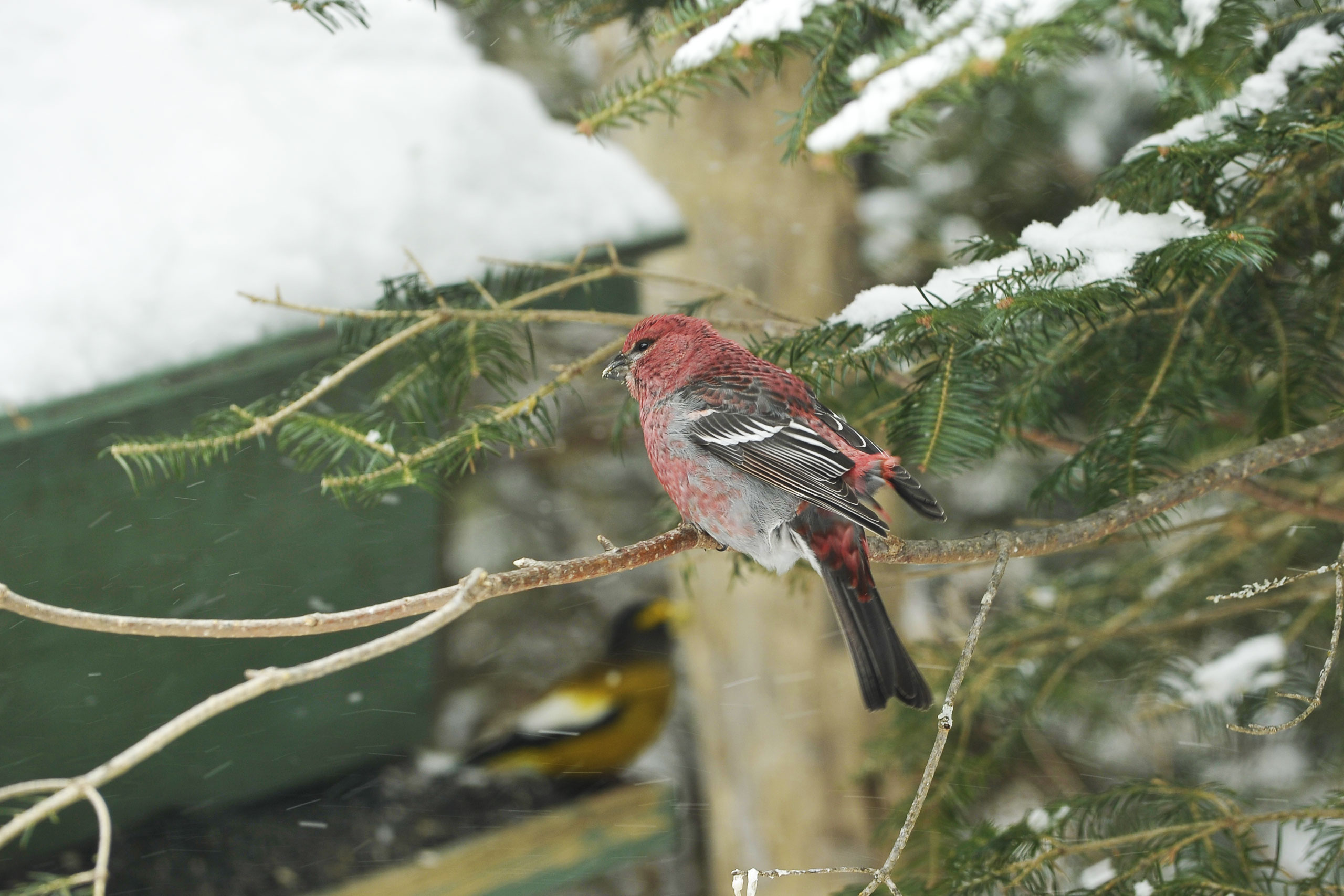 Fall and spring programs are available from September until December and from late April until the end of June. Winter programs are available from January until early April. As each season has highly variable weather conditions, programs may not be available through the entire season, or may need to be altered to accommodate the conditions of the day.
Interpretive Hike
Grades 1-12
Fall, Winter and Spring
Students travel through the boreal forest learning themes including plant and animal adaptations, seasonal changes, diversity of living things, tree and plant identification. The topics of the hike will vary according to the grade and curriculum of the students. In the winter, interpretive hikes generally take place on snowshoes.
Animal Games
Grades 1-2
Fall and Spring
Students participate in a variety of mimicry and guessing games which highlight the physical and behavioural characteristics and adaptations of animals.
Grade 2 Skull Study
Grade 2
Fall and Spring
Students examine a variety of skull replicas from animals of the boreal forest. They draw a sketch of a skull and record information about the size of the skull and the types of teeth the animal has. Using this information, the student will determine whether the animal is a herbivore, carnivore or omnivore.
Camp Map Game
Grades 2-4
Fall and Spring
Students are taught basic map reading skills, including how to orient a map and use a legend. They then use their map to move around the Main Camp area, searching for fifteen stations which have clues to solve a word puzzle written on their map.
Grade Three Tree Key
Grade 3
Fall and Spring
Students are introduced to a simple dichotomous tree key and shown the different characteristics of twigs and/or leaves. The students visit six different trees and use the key to identify the species.
Pond Study
Grades 1, 2, 4, 6
Fall and Spring
Students collect and examine samples of aquatic life from our pond or Kingfisher Lake. With grade six students, the samples are taken to our science lab, where students sketch the organisms and make notes about their physical characteristics. Students use a simple dichotomous key to determine the organism's scientific Class. Small aquatic creatures are examined with microscopes and sketches are used to help identify the organism's common name.
Oh Deer!
Grade 4
Fall, Winter and Spring
Students play the roles of habitat (food, water and shelter) and deer to gain an understanding of how animal populations are related to their environment. A bar graph is generated to show changing populations over time.
Bird Study
Grades 4-8
Fall and Winter
Students are introduced to a simple dichotomous key, designed to identify the birds around Kingfisher. They observe the birds and make note about their physical and behavioural characteristics, and use the bird key to determine the birds' identities.
Grade Five Skeleton Study
Grade 5
Fall, Winter and Spring
Students examine replica skeletons of a variety of different animals and compare anatomical differences and similarities. Students are encouraged to think about different adaptations animals have, and how these adaptations might help the animal survive. Students also compare and contrast the animal skeletons with a replica of a human skeleton.
Visual Arts – Look, See, Paint
Grades 5 and 7
Fall and Spring
Students are introduced to various visual arts concepts, including complementary colours, movement, texture, and rhythm. Using basic watercolour techniques and observation skills, students work independently on a landscape painting in a natural setting. A short written piece or poetry may also be created, to correspond with the writing curriculum.
Orienteering
Grades 6-8
Fall, Winter and Spring
Students are taught how to use a compass and how to estimate distance using pacing. They complete an outdoor compass course called the Maze, in which they find fifteen stations in the forest using their compasses and maps.
Canoeing
Overnight Program Only
Grades 6-8
Fall and Spring
Students must complete a classroom lesson and pool session on canoe safety prior to canoeing at Kingfisher. On-water sessions are taught by qualified canoeing instructors. The canoeing program also introduces students to the importance of canoeing in Canadian history.
Flight
Grade 6
Fall and Spring
Students are introduced to the concepts of flight and build individual elastic–powered model airplanes. The students fly their airplanes and apply various techniques to help improve the flight of their airplanes.
Cooperative Activities
Grades 6-8
Fall, Winter and Spring
Students participate in different challenges or problem-solving activities. After the activity, instructors facilitate a discussion about how they worked on the problem, communication, leadership, listening skills, respecting all voices, and many other aspects of group interaction.
Microscope Lab
Grades 6-8
Fall, Winter and Spring
Students are introduced to basic microscope skills. They complete four different labs, observing, sketching, and answering question on plant and animal cells and small aquatic creatures. This lab manual is easily used as an evaluative tool for part of their science lab.
Survival Game
Grades 6-8
Fall, Winter and Spring
In this large group activity, students take on the role of an animal in the boreal forest. Students collect food and water items to keep their animal alive, and find hiding spots (shelter) to protect them from predators. The game introduction and debrief sessions, led by Kingfisher staff, examine predator-prey relationships, food chains and webs, and the interdependence of living and non-living things within an environment.
Snowshoe Interpretive Hike
Grades 4-8
Winter
Similar to interpretive hikes mentioned above, but on snowshoes. There is an interpretive emphasis on winter and snow ecology as well as plant and animal adaptations to winter.
Cross-country Skiing
Grades 4-8
Winter
Students obtain equipment and wax their own skis. They participate in a ski lesson and ski around our various ski trails in small groups with other students of similar experience. Generally, this activity requires a full day due to the equipment/waxing requirements.